Coin Insurance
While some collectable coins may be covered in a standard Home and Contents insurance policy, serious coin and medal collections require specialist policies and a specialist insurance broker.
At Tollgate Private Clients we specialise in insurance for High Net Worth individuals and, as a result, we have become experienced in handling insurance cover for a wide range of collectors, including those requiring Coin Collectors Insurance. To find out more details, please get in touch or click on the button below for more information about us and our range of specialist collector's insurance policies.
Collecting Coins
As keen coin collectors will know, the value of collectable coins can be difficult quantify – it really depends on how much another coin collector is willing to pay. So, in terms of insurance, it's vital that an expert valuer is sought to ensure a correct valuation is obtained for insurance purposes. The following factors give a guide to what affects the value of coins.
Mintage
The mintage of a coin indicates how many of a particular design were created and released into circulation. Put simply, the lower the mintage figure, the less common it is and, therefore, the harder it is for collectors to find. Collectors are more likely to pay a higher sum for such coins to complete their set.
Age
Older coins are often more valuable. This is obviously because they are rarer and those that still exist can be worn, damaged or lost over time. Condition. Most collectors seek to buy coins in 'mint condition', meaning no wear and tear, dings or scratches.
Scarcity
Some coins are particularly in demand by collectors, or even kept by the public for sentimental reasons. This can drive up the scarcity of that particular design, even if the mintage is comparatively large. Change Checker is an online platform that allows collectors to trade rare coins and notes with others and Change Checker's Scarcity Index can help give an indication of a coin's value. The Scarcity Index takes into account: How easy it is to find a coin – based on how many of each coin design are listed as 'collected' by collectors on the platform. How 'in demand' a coin may be – based on how many times collectors request to swap a certain design. Coins are given a score out of 100, and the higher the score, the rarer and potentially more valuable a coin is.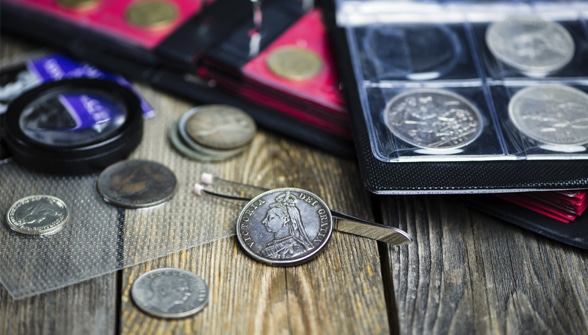 Specialist Coin Collectors Insurance
As a collections specialist broker, Tollgate Private Clients provides bespoke collection insurance created and built around the specific needs of collectors. Our insurance experts maintain excellent relationships with key underwriters and valuers and will work with you to ensure that your coin or medal collection is completely covered, to your precise needs. Coin collections can take many years to accumulate and the Tollgate Private Clients team truly understands the sentimental and financial investment such collections can combine. Having the right insurance for your coin collection will remove any worry you may have about the safety of your collection so, please don't hesitate to contact us to discuss your coin collection insurance.
&nbsp
What we cover
• Family fleet
• Executive saloons
• 4×4s
• High performance vehicles
• Super cars
• Motorcycles including (Superbikes)
• Track day cars
• Modified vehicles
• Motorhomes
&nbsp